GBE Pushing Its International Promotion Into North America
09

With the ardent supports of Rasson, one of our most loyal exhibitors, this August GBE (China Guangzhou International Billiards Exhibition) successfully made quite an impression on North America on the site of BCA Expo 2017.
The 50 million billiards sports population in China (according to Wang Tao, Secretary General of Chinese Billiards & Snooker Association in 2015) was a real businessmen magnet, attracting dozens of billiards exhibitors to inquire about our show information. One the other hand, with Yushan in recent years making China further known internationally as a major billiards equipment exporter, many professional buyers present demonstrated great interest in paying a visit to Chinese suppliers next year at our show. What's more, thanks to Rasson's high praise to us, more credibility was added to the show, building up on-site insider's faith in GBE!
The popularity of GBE in South America was beyond our expectation, however, an even bigger surprise was in store. On the site of BCA Expo 2017, we were very happy to bump into Pool & Billiard Magazine, one of our most intimate media partners who has honored us with a chance to promote GBE 2018 with a full page advertisement on their monthly magazine, sharing our show information to the largest readership of billiard businesses, players and fans worldwide!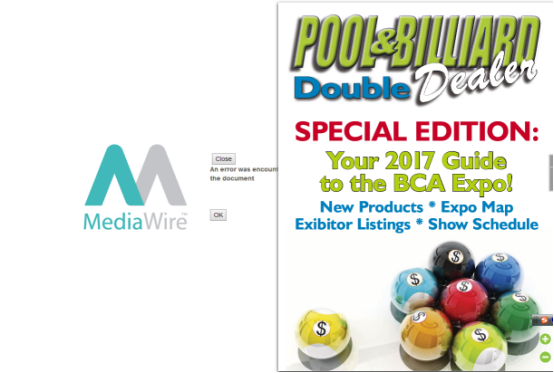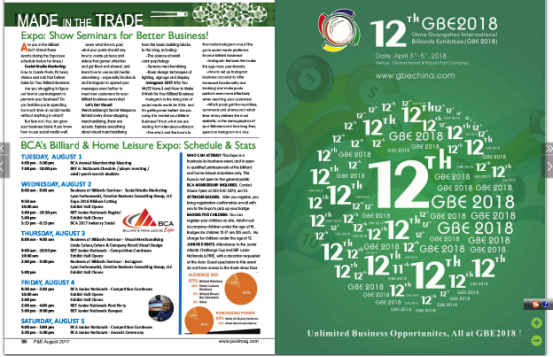 Above is just a tip of our international promotion iceberg. So far we have established partnership with over 100 media (the number has never stop increasing!), including the Polish Billiard Association, African Billiards & Snooker Federation, World Billiards, etc. In the future, we will strive for more oversea on-site promotion to directly communicate with more worldwide insiders!
12th China Guangzhou International Billiards Exhibition (GBE 2018)
Date: April 3rd-5th, 2018
Venue: China Import & Export Fair Complex