CYCLOP Bustled with Business at GBE2018
10

World leading pool ball brand CYCLOP was reported to bustle with business on the strength of top-notch manufacturing technologies and premium products during the opening of GBE2017(short for the 11th China Guangzhou International Billiards Exhibition) which was slated on March 8-10, 2017. As the loyal exhibitor of GBE, CYCLOP has also gained a fruitful trip each year. And there was no exception in 2017. On the first day alone, the transaction quantity of CYCLOP pool balls reached at 2041 sets, which was a smashing success! Remarkably, the figures went up to 3000 sets on the next day.

The three new American pool balls of CYCLOP comprising CYCLOP ZEUS Tournament TV Set, CYCLOP ATHENA Ball Set, CYCLOP ARES Ball Set were highly acclaimed by visitors at GBE2017. As the best seller in pool market, CYCLOP has been much involve in international billiards championships like World Games, China Billiard World Championship, Women's World 9-Ball Championship, Amway WPA Women's World 9-Ball Open. More importantly, CYCLOP pool ball brand is also named as the exclusive official brand by Chinese Billiards & Snooker Association(CBSA). CYCLOP becomes a sought-after brand, domestically and internationally.
Thanks to the hundreds of premium visitors gathering at GBE2017, CYCLOP had access to welcome a batch of prominent visitors across the globe, such as President Jason Ferguson of WPBSA, Chairman Maxime Cassi of European Billiards and Snooker Association(EBSA), Pan Jian(father of Chinese leading female billiards championship Pan Xiaoting), and other industry bigwigs.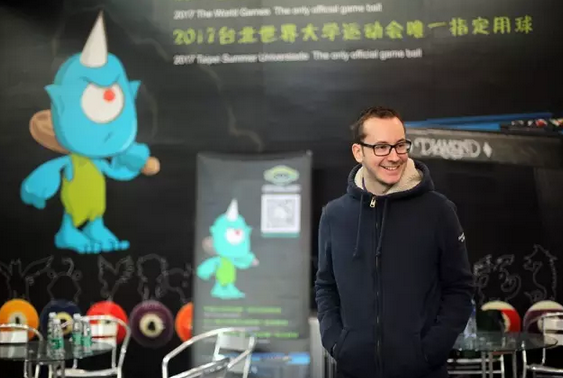 World-famous American pool trick shot player - Florian "Venom" Kohler was present at GBE2017 to further propel the billiards popularity in China. His brilliant massé shots energized all exhibitors and visitors on site.
By taking advantage of the leading billiards trade platform, brands like CYCLOP have the chance to scale up their business and enhance brand image globally. Thus, CYCLOP shows their ongoing support for GBE and expects the new highlights of next year.
It's the dedication spirit to billiards industry that GBE can go further and further and gain great reputation in the circle. In 2018, GBE is bound to refresh you with utmost enthusiasm.