Cue Sports to Be Revived in 2030 Asian Games, Doha
16

By GBE Committee
After 11 years, cue sports are finally brought back to Asian Games for the 2030 version held in Doha, Qatar, as jointly announced by the Asian Confederation of Billiard Sports (ACBS), Qatar Olympic Committee, and Qatar's Ministry of Culture and Sports on March 13th, 2021.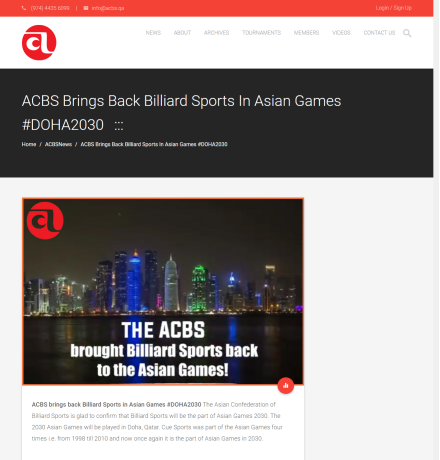 Cue sports were once played in the Asian Games four times from 1998 to 2010, and in recent years, cue sports are gaining even stronger traction in Asia, especially in the growing Chinese market. Even in the challenging year of 2020, a total of 40 large-scale billiards games were held in China. It has even been reported that Mainland China and Taiwan (China) together claim over 75% of global billiards equipment market.
Now the inclusion of cue sports in the 2030 Asian Games is certainly going to further boost the sports' popularity worldwide. As a staunch friend of the world's billiards community, the organizer of Guangzhou International Billiards Exhibition (GBE) really looks forward to the day when cue sports will be present in the Olympic Games!
To contribute to the brighter future of the billiards industry, the organizer of GBE will continue to be the bridge between businesses and insiders' worldwide!
The 15th Guangzhou International Billiards Exhibition (GBE 2021)
Date: May 10th-11th (9:00-17:00); May 12 (9:00-13:00)
Venue: China Import & Export Fair Complex
Website: www.gbechina.com