African Billiards & Snooker Confederation
21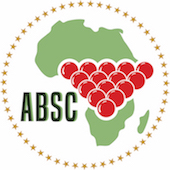 African Billiards & Snooker Confederation
Proub member of the African Association Of Sports Confederations
The African Billiards & Snooker Confederation succeeded in including Snooker in the African Games held in Morocco 2019 for the 1st time in Snooker history. The tournament qualified for the main tour and for the 1st time a Moroccan won the championship.
The ABSC also succeeded in including Snooker in the 2022 African University Games to be held in Kenya.
In this regard, the ABSC is looking for sponsors who consider Africa an important market for them and we will put our hands together to promote their products and the sport.
Mr. Mohamed ElKammah Mr. AbdelRazak Fahim
President Vice President
Villa 148, neighbourhood 6 Yasmina 5
District 13, Sheikh Zayed Rue 50 N° 43 Ain Chok
city, Egypt - 12593. Casablanca, Morocco
Mobile: + 2 0122 1111 92 Mobile: +21261446241
Email: mkammah@gmail.com Email: maroc_fed@yahoo.fr
Mr. Akram Elbaloula Mr. Rahen Ghurburrun
General Secretary Treasurer
Africa Avenue 59 Clairfonds Road N0 1
P.O. Box 2495 Vacoas
Khartoum, Sudan Mauritius.
Mobile: +971508740330 Mobile: +230 255 3950
Email: bakram1979@gmail.com Email: rahen.ghurburrun@gmail.com